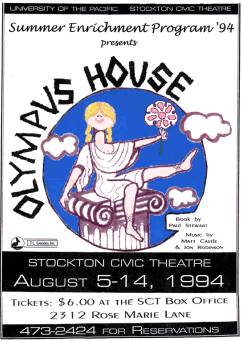 To read full script, click here.
(At the bottom are photos of the 2006 production in Massachusetts.)

"OLYMPUS HOUSE" was produced for the third time March 2009 in Carthage, Missouri. Click here for a newspaper story and photo of the show: http://www.carthagepress.com/news/x792888675/Thursdays-Fairview-Drama-Club-production-will-be-its-last

The show was originally produced in Stockton California, August 1994 for what was called "The Summer Enrichment Program, later called The Benerd School of Theater Arts Project (TAP.) It was an annual six week summer program for kids, located at the campus of the University of the Pacific.

Matt Castle directed the show, (wrote the music with Jon Robinson.) I wrote the book and lyrics.

The revival November 2006 contained fewer lyrics and none of the original music, but rely on spoken verse and a cast of about 75. (I can email a copy of that new easier to produce script.)

STORY: The Gods on Mount Olympus are spending too much time goofing off and being lazy especially when it comes to helping us mortals. King Zeus is getting a little senile. His nine daughters need to be punished after infuriating the evil God of war Hannibal.

Soon the nine muses are sent to live among the mortals. Each one is assigned a mortal to help. Their job is to give them all hope and inspiration no matter how bad things seem.

The muses end up learning a lot about sharing and to not ignore people in need. They even build a homeless shelter.

It is very much a mainstream full blown musical with humor and romance, the positive messages are easy to take.

The play was written to give quality stage time to as many kids as possible. There are over 20 significant roles. The number of muses and their clients could be trimmed.

There are also plenty of good lines for a giant ensemble cast to share. Although the play was originally preformed with a ten piece orchestra, the score would still be quite effective with simply a piano or recorded music.