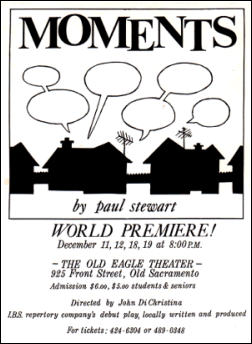 To read full script, click here.
Full length family drama/comedy. 10 character ensemble.

My first play, produced by me in 1987 at the Old Eagle Theater in Sacramento, (the oldest theater west of the Mississippi.)

Written in 1982. The conflicts of a whimsical and eccentric family going through major life changes.

A play full of monologues and stories. "You have to hang on to your dreams, but let go of certain things and learn that no feeling last a year or a day but only a moment."

The father, a middle aged English teacher realizes he'll never be a novelist and is distant to his wife. She has become successful and wants out but is bound by old fashion values.

The 20s younger nerd-like brother realizes he'll never become a doctor and begins to rebel against his older brother who's always been a lucky winner and a bully.

Fully staged reading in 1997. It became an early '80s period piece.